WASHINGTON – U.S. Senator Joni Ernst (R-Iowa), a combat veteran and member of the Senate Armed Services Committee, spent the weekend participating in conversations on the war in Ukraine, the state of the North Atlantic Treaty Organization (NATO), and American leadership on the global stage.
On Friday, Ernst sat down with Peter Rough of the Hudson Institute for a conversation on the United States' relationship with Europe, specifically in regard to the war in Ukraine. The discussion launched the Hudson Institute's Center on Europe and Eurasia.
"Every bilateral meeting we had with European members, every last one of those countries stressed to us how important it was for America to lead," said Ernst, referring to her trip to the 2022 Madrid NATO summit. "That means providing a voice, a discussion about the direction we go, whether it's NATO or any other space out there. The world needs American leadership."
Click HERE or the image below to watch the full conversation.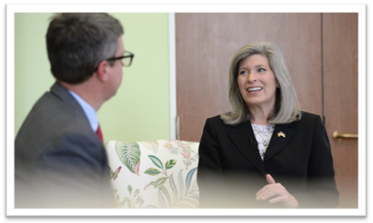 On Saturday, Ernst participated in a panel at the Reagan National Defense Forum on the United States' involvement in the war in Ukraine and combatting Russian aggression. Ernst echoed President Reagan's motto of peace through strength and highlighted the ways the U.S. could aid Ukraine, including her effort to provide their forces with Gray Eagle drones.
"If we're not helping the Ukrainians win and win decisively, what happens next with Taiwan? What happens next in another hot spot around the world? American needs to regain its leadership and we have to be very firm in that commitment," said Ernst.
Click HERE or the image below to watch the panel.
Left to right: U.S. Army Sec. Christine Wormuth; Gen. B. Chance Saltzman, U.S. Space Force; Gregory Hayes, CEO & Chairman, Raytheon Technologies; Senator Ernst; and moderator Jennifer Griffin, Fox News.