WASHINGTON – After leading a bicameral Congressional delegation to the San Diego sector of the U.S.-Mexico border and Mexico City, Mexico, Senator Joni Ernst (R-Iowa) is sharing her solutions and urging President Biden to take action on the growing fentanyl epidemic devastating communities in Iowa and across the country.
During President Biden's 73-minute State of the Union address, the fentanyl crisis was mentioned merely five times, not nearly enough to express the full impact of the deadly drug, which killed over 110,000 Americans last year, and solutions to the crisis.

Click here or the image above to view the full article from KMALand.
KMALand covered Ernst's comments on the effects of the crisis on our Border Patrol agents: "Right now, our Border Patrol is demoralized…They feel like Uber drivers and paper pushers instead of front-line agents who are pushing back on cartel activity and drug and human smuggling."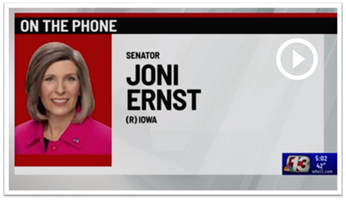 Click here or the image above to watch more from WHO-TV.
WHO-TV reported on the lack of resources at the San Diego Port of Entry, comparing local Des Moines traffic to what is experienced at the border: "(Border Patrol agents) have 10 times as many lanes (compared to Des Moines, Iowa), but only three to five K-9 dogs that can try to go through some of the vehicles to check for drugs. Obviously, most of the vehicles go through without a dog checking it out."
Click here or the image above to view the full article from The Gazette.
The Gazette reported on the senator's conversations with the National Border Patrol Council (NBPC): "Ernst said the delegation met with members of the National Border Patrol Council…which outlined the difficulties border agents are facing curbing illegal border crossings, including outdated surveillance technology and a shortage of agents and K-9 units."
Click here or the image above to watch more from Fox News.
Senator Ernst joined Harris Faulkner on Fox News to discuss her findings from the trip, including the Biden administration's failure to act: "Over 400 Iowans just in the last few years have been killed by fentanyl overdoses…Every state is now a border state because of President's Biden's failure to address this situation. And we have a border czar that is not even visiting the border, dealing with the issues on the border and enabling our Homeland Security officials to do their job."
Click here or the image above to watch more from KCAU.
KCAU highlighted Ernst's comments on the need for additional resources for border security: "We do need to watch our spending, but there are areas of primary concern for us and that should always be security of our nation and national defense."
###