AMES, Iowa – Last Friday, U.S. Senator Joni Ernst (R-Iowa), a member of the Senate Committee on Agriculture, Nutrition, and Forestry Committee, visited her alma mater, Iowa State University, for a day of meetings focused on the agricultural and energy research happening in Ames.
Ernst visited with the science and technology experts and senior leadership from Iowa State University and Ames National Laboratory; participated in a briefing on the upcoming Farm Bill; joined a roundtable discussion on agricultural research and global food security; and attended the groundbreaking ceremony for the new U.S. Marine Corps Obstacle Course. Ernst was a member of Iowa State University ROTC when she was in school there and commissioned as a second lieutenant in the U.S. Army Reserves following her graduation from the program.
Click HERE for photos from her visit.
"Iowa is incredibly lucky to have one of the world's leading institutions in research and development in our own backyard. As a proud alumnus of Iowa State University, I am no stranger to the innovation that is happening here in Ames. Between their nationally-recognized work with critical minerals and the groundbreaking agricultural research, the university is finding solutions to our world's top concerns and is a major partner in supporting the United States' national security priorities," said Ernst.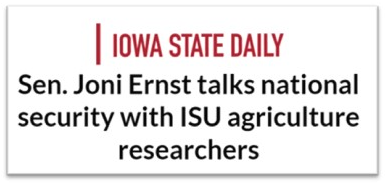 Iowa State Daily covered Ernst's roundtable discussion with research leaders from Iowa State University: "Ernst and university administrators discussed current initiatives to address food waste and promote sustainable agricultural practices. 'It is imperative that as we're looking at national security, that the United States of America remains at the forefront of research and development, making sure our own food security is in place because food security is national security,' she stated."
WHO 13, Des Moines, reported on Ernst's meeting on global food insecurity: "The effects of COVID-19 on the world's supply chains caused food insecurity across the globe to skyrocket. Ernst cited other major contributors to current food insecurity, including the war in Ukraine and extreme weather events."
The Quad City Times covered Ernst and research leaders' panel on crop diversity: "As weather and supply and demand change overtime, so do the markets for specific crops. Ernst was confident in Iowa farmer's ability to adapt with the times stating, 'I think there are other ways our farmers can really tap into new and developing crops or things that might work better for the climate.'"
###