WASHINGTON – In case you missed it, Senator Joni Ernst (R-Iowa) has been advocating for her bipartisanDisrupt Fentanyl Trafficking Act, which she introduced alongside Senator Tim Kaine (D-Va.). As members of the Senate Armed Services Committee, their bipartisan effort utilizes the tools of the Department of Defense (DoD) and involves Mexico as an active partner to combat the national security threat of illicit fentanyl trafficking and disrupt Mexican cartel activity.
The senators joined Bret Baier's Common Ground segment on Fox News to discuss their bipartisan legislation.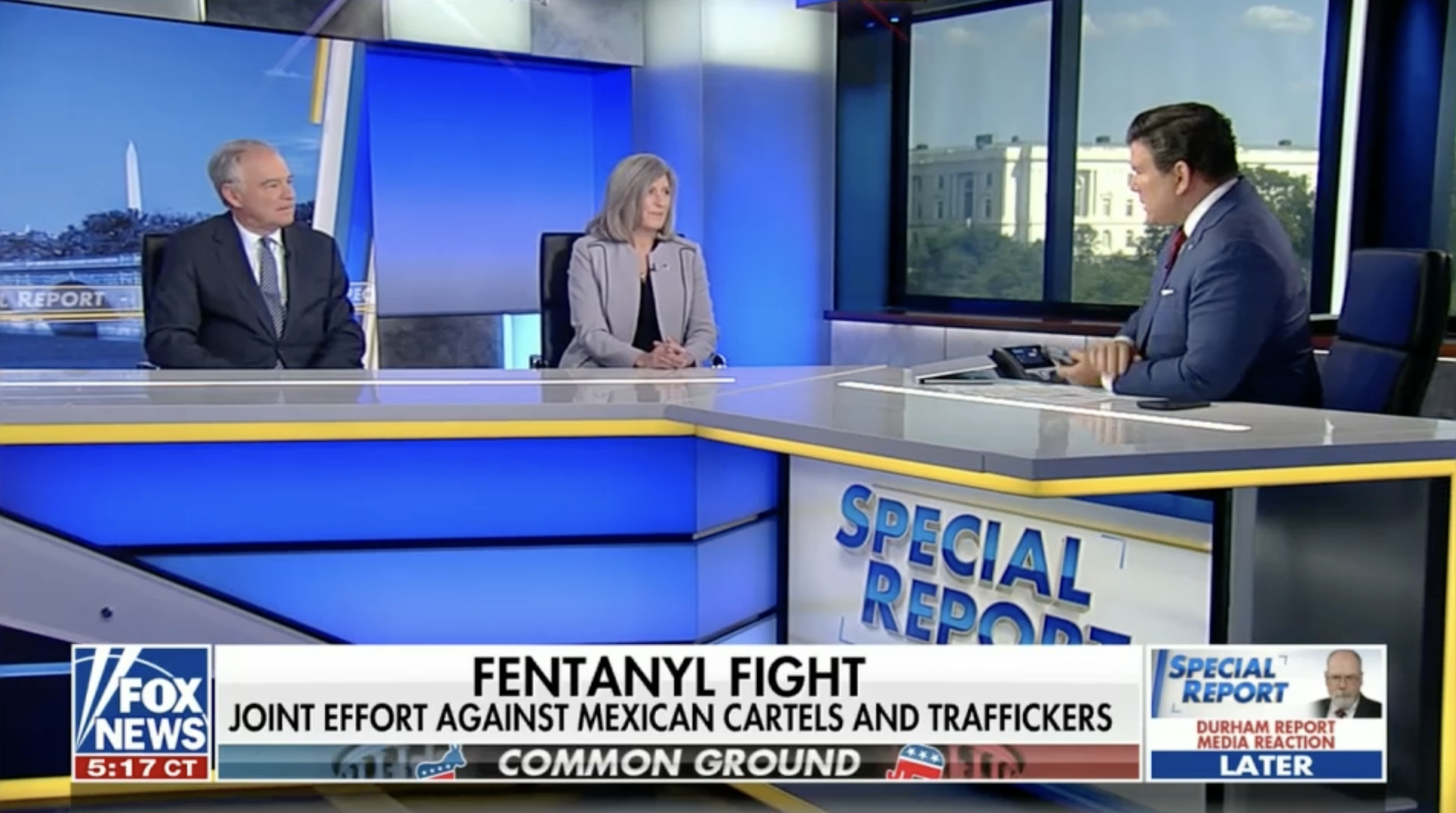 Click here to watch the full interview.
"Fentanyl is really destroying so many of our families and our communities. We have a bipartisan, bicameral effort in this bill. It allows us to move through our oversight authority in the Department of Defense as members of the Armed Services Committee to direct the Secretary of Defense to work with counterparts in Mexico…pushing back against those drug cartels."
CNN.com published the senators' joint op-ed on their solution to combat the fentanyl crisis:
Ernst and Kaine: Fentanyl is killing a shocking number of young Americans. What the US can do to respond
The senators wrote, "To truly end the fentanyl epidemic, the response must be proportionate to the problem. That is going to take a coordinated, whole-of-government approach that begins with prioritizing the issue, followed by strong interagency coordination. That's why we introduced the Disrupt Fentanyl Trafficking Act of 2023 this week to direct more federal attention and coordination to deter the criminal networks responsible for trafficking."
They continued, "To solve this problem, our bipartisan legislation would classify fentanyl trafficking as a national security threat to the US, encouraging the DoD to use resources like training and up-to-date information sharing to support counter-fentanyl efforts more actively, improve coordination efforts between Defense, State, Treasury and federal law enforcement agencies to address this crisis, and direct the Pentagon to develop a fentanyl-specific counterdrug strategy that includes enhanced cooperation with Mexican defense officials."
The senators concluded, "It's time to put the Pentagon's tools to use and save lives."
Read the full op-ed here.
View additional coverage below:
Politico's National Security Daily: A middle path to curb fentanyl
"A new bipartisan and bicameral proposal — the Disrupt Fentanyl Trafficking Act of 2023 — would chart a middle path for escalating America's counter-drug efforts while keeping the guns holstered."
"Ernst told NatSec Daily that she believes this bipartisan effort will help save lives. 'Maybe this doesn't get all the media attention that some of these other bills will, but it is a solution. It's a real solution,' she said."
Washington Examiner: Bipartisan bill would empower Pentagon to take down Mexican drug cartels pushing fentanyl
"Democrats and Republicans from the House and Senate will debut legislation that would declare fentanyl a national security threat and allow the Pentagon to take new action targeting Mexican drug cartels."
"Senate Armed Services Committee members Joni Ernst (R-IA) and Tim Kaine (D-VA) shared exclusively with the Washington Examiner Tuesday morning their forthcoming bipartisan, bicameral bill to use their oversight authority of the Department of Defense to force the federal government to take stronger actions against Mexican transnational criminal organizations."
KGAN: Sen. Ernst announces bi-partisan legislation addressing fentanyl trafficking
Radio Iowa: Senator Ernst: Use Defense Department to cut fentanyl influx
KMA Land: Ernst calls for greater government fentanyl focus
KIWA Radio: Ernst: Increase DOD Oversight To Curb Fentanyl; Iowa Taking Action At State Level
###