WASHINGTON—U.S. Senator Joni Ernst's (R-Iowa) effort to build a new memorial on the National Mall in Washington, D.C. to honor the troops who served during the Global War on Terrorism continues to gain support from her colleagues—Democrats and Republicans—as well as influential public figures. Ernst, who commanded 150 troops during Operation Iraqi Freedom and is the first female combat veteran to serve in the U.S. Senate, has
continued to push
for passage of this legislation but has been
blocked
twice
on the Senate floor.
In the last two months, nearly 20 senators have joined the bill, including Senators Chuck Grassley (R-Iowa), Tim Kaine (D-Va.), Gary Peters (D-Mich.), Marco Rubio (R-Fla.), John Hoeven (R-N.D.), Susan Collins (R-Maine), James Lankford (R-Okla.), Jim Inhofe (R-Okla.), Chris Coons (D-Del.), Richard Burr (R-N.C.), John Cornyn (R-Texas), Mitt Romney (R-Utah), Lindsey Graham (R-S.C.), John Barrasso (R-Wyo.), Cynthia Lummis (R-Wyo.), Steve Daines (R-Mont.), Shelley Moore Capito (R-W.Va.), Rick Scott (Fla.) and Bill Hagerty (R-Tenn.). The bill now has the support of 41 senators.
"I've continued to hear from my colleagues, members of the military, veterans of the Global War on Terrorism, and so many others about the need for a memorial to honor the fallen heroes of our nation's longest war. It's a commonsense effort that doesn't cost a dime of taxpayer money, and I'm glad to have the strong support of so many Democrats and Republicans and public figures. The time is now to get the Global War on Terrorism Memorial built on our National Mall," said Senator Ernst.
"We're so encouraged by the amount of support for the Memorial we have seen in recent weeks. It signifies that lawmakers truly understand and appreciate the scope of sacrifice made. We are at a significant moment in the history of the Global War on Terrorism. It's been twenty years, and this can't wait any longer. We believe that lawmakers understand the healing and unity this Memorial would offer surviving families, veterans, active duty service members, and future generations of Americans," said Marina Jackman, President/CEO, Global War on Terrorism Memorial Foundation.
"The time is now to honor those who have fought, bled, and died in the Global War on Terrorism. I am excited to see the incredible support from the United States Senate

–

and it gives me hope that more will join in this important cause until we reach all 100 Senators. We as a military and Gold Star community need a place to heal and honor our loved ones," said Jane Horton, Gold Star Wife.
"After our nation and everything it stands for was attacked on September 11, 2001, thousands upon thousands of Americans volunteered to respond. For twenty years, the bravest among us continued to risk their lives to protect our freedoms. 7,072 of these heroes never came home. It is our duty to make sure the men and women who made the ultimate sacrifice in the War on Terror are never forgotten. Their families deserve a place to visit and grieve, a place to come and reflect upon their sacrifice, a place that recognizes this war's place in America's history. It is critical that the Global War on Terror Memorial be built," said Tunnel to Towers Foundation Chairman & CEO Frank Siller
What They Are Saying
American Actor Milo Ventimiglia:
Five for Fighting Singer John Ondrasik:
"Since my performance at the Concert for New York I have had the honor of spending time with many gold star families who lost loved ones due to the Global War on Terror. I do not understand why there would be any hesitancy to recognize their sacrifice with the GWOT Memorial on our national mall. There is no more fitting location to enshrine the heroism and courage of our fellow Americans who gave their lives to keep us safe."
Country Singer Kellie Pickler: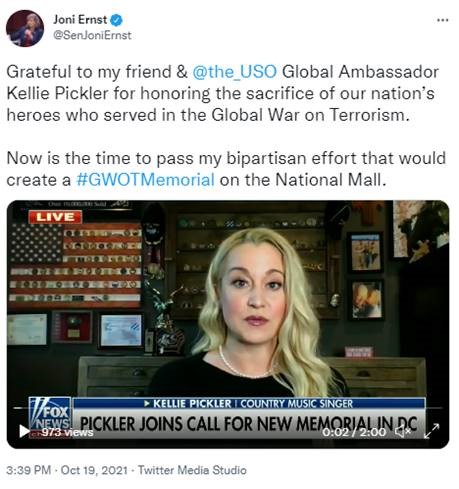 ###