WASHINGTON – U.S. Senators Joni Ernst (R-Iowa) and Reverend Raphael Warnock (D-Ga.), both members of the Senate Agriculture Committee, today renewed their effort to support the Beagle Brigade, canine detection units – made up mostly of beagles – used at airports and ports of entry.
The Beagle Brigade Act, provides backing for the Department of Agriculture's (USDA) National Detector Dog Training Center, where the beagles and other dogs in the unit are trained. These canines inspect luggage, vehicles, cargo, and other packages entering the United States for prohibited agricultural items that could carry foreign pests or viruses into the country. Specifically, their work is aimed at keeping out animal and plant diseases, like African Swine Fever or avian influenzas, that could devastate Iowa farms.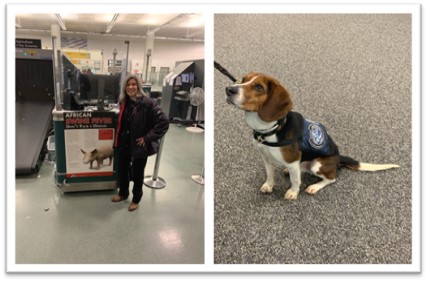 Last month, Ernst saw the Beagle Brigade in action at the Newark Airport.
"Iowa farmers know that viruses like avian influenza and African Swine Fever have the power to devastate our agriculture industry, so we must do everything in our power to keep these diseases out of our farms and fields," said Ernst. "The Beagle Brigade is a major tool we use to sniff out these harmful diseases before they even enter our country, and this bipartisan bill will help ensure they can continue doing this important work."
"Every day, USDA's National Detector Dog Training Center in Newnan, Georgia plays an essential role in keeping our food supply safe,"said Warnock. "Last spring, I introduced this legislation with Senator Ernst after I visited these hardworking dogs and their trainers. I saw firsthand how they work tirelessly to protect our agriculture industry from potentially contaminated fruit, vegetables, and meat. As a dog-lover and proud member of the Senate Agriculture committee, I am glad to be a leader in the effort to permanently authorize the Center and provide a dedicated source of funding for its vital work. I'm going to keep pushing to get this done."
Similar legislation was introduced in the House by Representatives Sanford Bishop (D-Ga.), Drew Ferguson (R-Ga.), Dan Kildee (D-Mich.), and Adrian Smith (R-Neb.). You can find bill text here.
###