WASHINGTON – U.S. Senator Joni Ernst (R-Iowa) today revealed the hypocrisy of the Biden administration's radical green agenda increasing energy reliance on China while their broken permitting process is stalling American-made energy.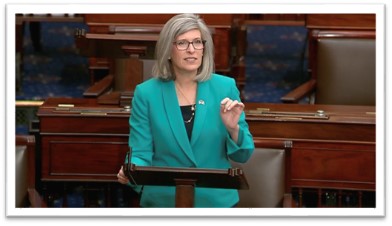 Click here or above to watch her speech.
Ernst's full remarks:
"The current permitting process in the United States is as outdated as that 70s shag carpet in your grandma's house – it's true!
"A lot has changed since that old rug – known as the National Environmental Policy Act – was installed in 1970.
"Today, the Democrats like to preach that America is ready for the Green Energy Revolution. But the facts just don't line up.
"Case and point: More than 92% of energy projects currently backlogged in the permitting process are solar and wind projects.
"Just last week in a Senate Armed Services Committee hearing, Secretary of Energy Jennifer Granholm promised our DoD – the Department of Defense – could make our entire military fleet electric vehicles by 2030. All of them electric by 2030 – just a little under seven years from now.
"I pressed her on how in the world our Pentagon could accomplish this in that short time frame, and frankly, why it's a top priority for our nation's military in the first place.
"Folks, right now, China controls the EV supply chain.
"The communist regime produces about 75% of all lithium-ion batteries that power those Electric Vehicles.
"Over 70% of the world's cobalt mining occurs in the Democratic Republic of Congo – done by child labor – and the remainder of the cobalt primarily comes from CCP-owned firms.
"And to mine all these minerals, China relies on slave labor.
"This is absolutely unacceptable. Increasing reliance on the Chinese Communist Party and supporting their malign actions is a non-starter.
"In my exchange with Secretary Granholm in this Armed Services Committee hearing, she tried to tout the president's 'invest in America' agenda saying, '150 battery companies have announced they're coming or expanding to the U.S. to do business.' 
"That does sound great, right?
"Well, these businesses are in for a real treat.
"The big hand of Washington – guided by the Biden administration – is ready and waiting to prevent these businesses from actually mining, procuring, and processing minerals needed for their batteries right here at home. 
"The problem is, right now, on average, it takes four-and-a-half years to simply get an environmental review for a project!
"When the permitting process takes longer than the actual building process, that should raise a red flag…let's remove the red tape!
"Madam President, the best strategy to confront our growing energy needs is to utilize the abundance of energy-producing natural resources that our country was blessed with and encourage alternative energy production methods.
"By increasing the use of renewables, like homegrown Iowa biofuel, and building on advances in energy efficiency, we have the ability to pursue an energy strategy right here in America that creates jobs, lowers costs, and reduces our dependence on foreign adversaries like China.
"New clean energy projects bring economic benefits and jobs to rural areas, including my home state of Iowa.
"The Biden administration claims to 'Build Back Better,' but in today's reality, we simply can't build anything!
"It's time we pass commonsense permitting reform and get Washington bureaucrats out of the way."
###