WASHINGTON – Today, U.S. Senator Joni Ernst (R-Iowa), co-chair of the Senate Abraham Accords Caucus, addressed attendees at the March for Israel on the National Mall in Washington, D.C. as they came together to express solidarity with the Israeli people, demand the safe return of all hostages, and combat antisemitism.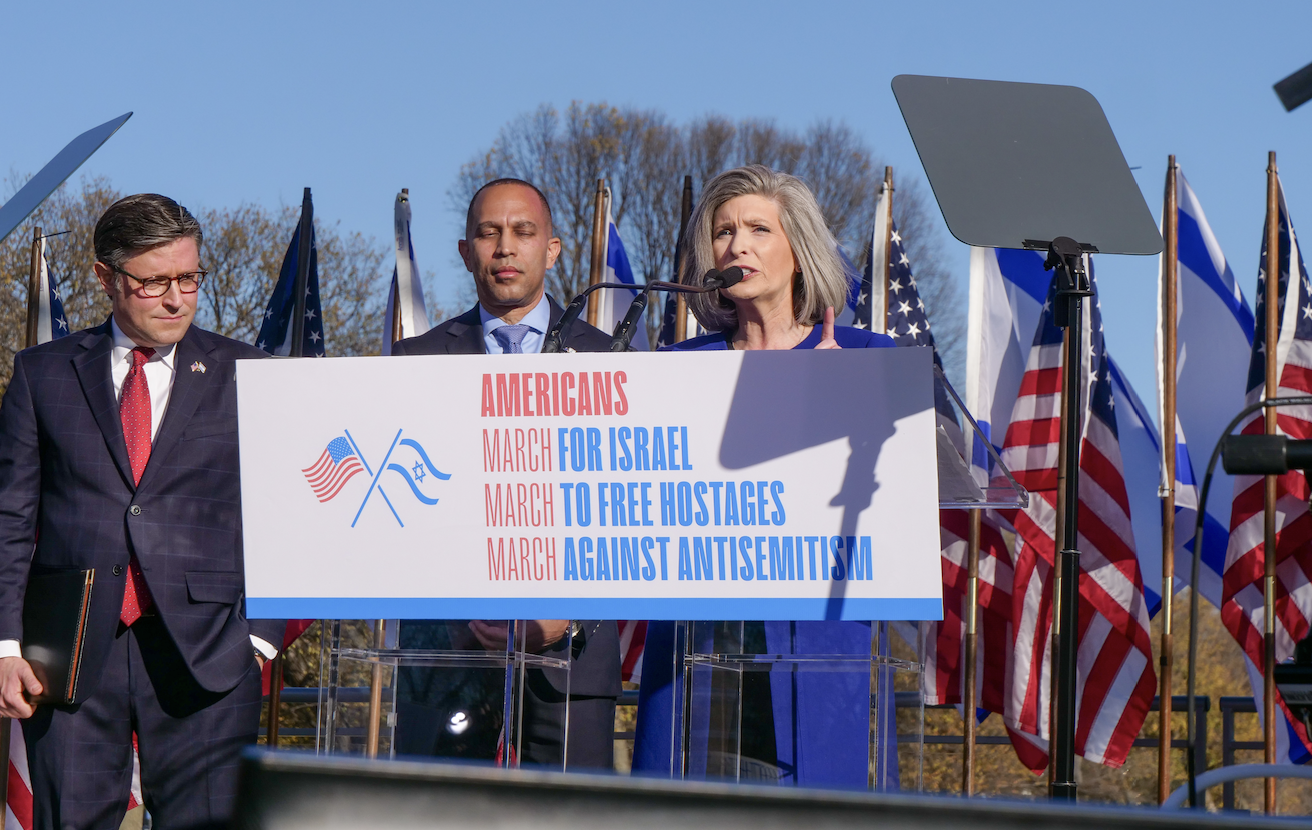 Click here or above to watch.
Ernst's full remarks:
"United States of America, do you stand with Israel?
"Folks, I am here today as a longtime friend and staunch supporter of our greatest partner in the Middle East, Israel.
"In December 2014, before I was even sworn in to the United States Senate, I visited Kibbutz Nir Oz in southern Israel by the Gaza border, one of the kibbutzim that was hit the hardest by Hamas on October 7th.
"Israel, and her people, hold a very special place in my heart.
"I want to thank each and every one of you for being here to show your unwavering support for our Jewish brothers and sisters.
"What Iran-backed Hamas perpetrated on October 7th was pure evil. And those monsters deserve nothing short of complete and total destruction. 
"Three days after the heinous terror attacks, I was on the ground in Israel, meeting with American and Israeli families, and sitting across the table from Prime Minister Benjamin Netanyahu as well as Opposition Leader Lapid.
"We heard from a father who rushed over from the funeral of his son's 18-year-old best friend who had just been brutally murdered at the hands of Hamas.
"We spoke with the family of an 80-year-old, father of five, a peace activist who drove Palestinian children to doctor's appointments who was kidnapped from his home during the invasion.
"With tears in their eyes, his family recounted the inhumanity of the attack, the destruction of their home, and ultimately the death of their brother while he was valiantly defending their home and family.
"In every meeting the message was abundantly clear: do not let the United States cower when the world starts to. Stand steadfastly in your solidarity.
"So, we are here today – as Republicans and Democrats – to assure you we will not shrink back and shudder in fear, as too many around the world already have.
"We will not sit quiet as anti-Semitism is being promulgated in classrooms and campuses around the country.
"The brutal reality of Hamas cannot be diminished – they murder babies, they rape women, they abuse the elderly.
"They killed 30 of our fellow Americans, hundreds of our Israeli friends, and are currently, right now, holding two hundred innocent men, women, and children hostage.
"How anyone in America could sympathize with these terrorists is truly unfathomable.
"Friends, there should not be a shred of anti-Semitism in our country – not now, not ever.
"Not only today, but in the coming weeks and months as Israel fights to secure their most basic human right – the right to life – the United States must remain resolute.
"In the Senate, we will continue to stand shoulder-to-shoulder with all of you, and our Jewish friends in Israel, the United States, and around the world.
"May God be with those who have lost a loved one; those who are waiting on the phone for an update about a son or daughter; those who are facing unprecedented harassment and hostility; and, those whose family member is bravely serving in the Middle East.
"And may God bless Israel.
"God bless Israel as she rightly defends herself against Hamas's brutal attacks.
"Israel, the United States will always have your back."
Sen. Ernst delivers remarks at the March for Israel, joined by Speaker Mike Johnson, Leader Hakeem Jeffries, and Leader Chuck Schumer.
###