RED OAK, Iowa – U.S. Senator Joni Ernst (R-Iowa), Ranking Member of the Senate Small Business Committee, today announced her Small Business of the Week: Hy-Capacity of Humboldt County. Throughout this Congress, Ranking Member Ernst plans to recognize a small business in every one of Iowa's 99 counties. 
"The Olson family business, born out of rolled-up sleeves and hard work in a garage repair shop, exemplifies the American entrepreneurial spirit," said Ranking Member Ernst. "In addition to producing critical parts and equipment, Hy-Capacity stepped up to manufacture gowns and masks for the Humboldt County Memorial Hospital during the COVID-19 pandemic. I'm proud to recognize their years of dedicated work to provide great careers and service to our communities."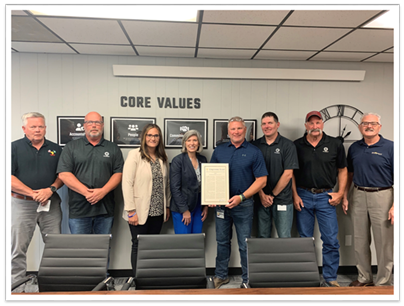 Click here or the image above to view pictures from the visit.
Hy-Capacity was founded by James "Scratch" Olson in 1978 in Pocahontas, Iowa, as a remanufacturer of agricultural farming equipment. The company's name refers to Scratch's ability to take existing tractor parts and modify them for "higher capacity" uses for farmers. Hy-Capacity has evolved over the years and expanded to offer a wide range of agricultural equipment, including cab kits, radiators, and engine overhaul kits. Scratch Olson's legacy includes a multi-generational workforce and a thriving business committed to hard work, community involvement, and dedication to farmers.
Stay tuned as Ranking Member Ernst recognizes more Iowa small businesses across the state with her Small Business of the Week award.
###