WASHINGTON – U.S. Senator Joni Ernst (R-Iowa), a member of the Senate Agriculture Committee, confronted the U.S. Department of Agriculture (USDA) about its lack of oversight of foreign involvement and advocated for her bipartisanFARMLAND Act to protect American agriculture in today's committee hearing.
She also pressed the committee to move forward with meaningful progress on the Farm Bill.
"Foreign ownership and investment in our agricultural land has nearly doubled over the last decade," said Ernst. "It's time we get tough on China and our adversaries by drawing a line in the sand when it comes to our agriculture industry, and the food security of our nation."
In response to Ernst's questioning, USDA Deputy Under Secretary Gloria Montaño Greene, admitted that Biden's USDA does not know how many foreigners are involved in taxpayer-funded Farm Service Agency programs.
Ernst replied, "USDA has a very outdated process, so we don't know this information…We have a lot of work to do within USDA to make sure we are tracking this information, because if our taxpayer dollars are going to foreign individuals, we need to know that. The FARMLAND Act would address a lot of those concerns."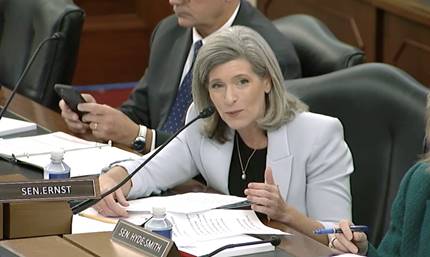 Click here or above to watch.
Background:
Ernst's bipartisan FARMLAND Act will overhaul the current system that has allowed China's malign influence to threaten American security by amending the Agricultural Foreign Investment Disclosure Act of 1978, which was established to develop a nationwide system for collecting information on foreign ownership of U.S. agricultural land.
###