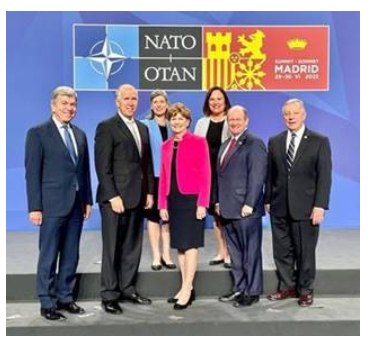 From left to right: Senators Blunt, Tillis, Ernst, Shaheen, Fischer, Coons and Durbin at the NATO Summit in Madrid earlier today.
MADRID – U.S. Senator Joni Ernst (R-Iowa) attended the 2022 North Atlantic Treaty Organization's (NATO) Madrid Summit taking place this week, as a part of a bipartisan Congressional delegation led by Senators Jeanne Shaheen (D-N.H.) and Thom Tillis (R-N.C.).
The group participated in the summit after stopping in Finland and Sweden to meet with heads of state and partake in other important bilateral meetings. Earlier this week, the delegation issued a joint statement commending the newly announced agreement that led to Turkey ending its hold on Finland and Sweden's accession into NATO. Other members of the delegation included Senators Dick Durbin (D-Ill.), Chris Coons (D-Del.), Roy Blunt (R-Mo.), and Deb Fischer (R-Neb.).
"Adding Finland and Sweden to our strongest multinational alliance will grow NATO's military capabilities and in turn strengthen America's capacity to defend the homeland. I'm encouraged the NATO strategic concept focuses on defeating and deterring Putin and seeks to prioritize China as the principal threat to safety and prosperity around the world," said Senator Ernst. "I will continue to steer our NATO allies, old and new, to meet their financial and manpower obligations to collective security, and I will also continue to push our administration and our allies to deliver the weapons necessary for Ukraine to defeat Vladimir Putin's authoritarian regime and win this fight."
In May, Ernst joined a bipartisan group of her colleagues in a joint statement of support and a letter to President Biden, calling for Finland and Sweden's swift accession into NATO in response to the respective nations announcing their intent to join the transatlantic Alliance. Last week, Ernst sent a letter alongside Senators Marco Rubio (R-Fla.) and Rick Scott (R-Fla.) to President Biden, urging him to work with NATO to prioritize combatting Chinese aggression in NATO's strategic concept.
###