DES MOINES, Iowa – U.S. Senators Joni Ernst (R-IA) and Chuck Grassley (R-IA), along with Governor Kim Reynolds, welcomed Vice President Mike Pence and U.S. Department of Agriculture (USDA) Secretary Sonny Perdue to Iowa today to participate in a discussion with faith leaders from around the state and a roundtable with food and agriculture leaders focused on safely ensuring a secure food supply chain.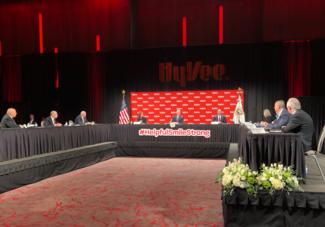 "Today, I was pleased to have Vice President Pence and Secretary Perdue back in our great state to hear directly from Iowans. Folks from across Iowa have faced challenges during this pandemic—from the ministers in our places of worship to our farmers and grocers who work hard every day to keep food in our stores and on our tables," said Senator Ernst. "There's no question we're taking an all-hands-on-deck approach to tackle this pandemic—from our federal partners to our state and local leaders across Iowa. As the Vice President said today, together, we are going to get through this."
"I appreciate Vice President Pence and Secretary Perdue visiting Iowa today and taking time to hear how the crisis is affecting our state. We had productive conversations with Iowans whose daily lives have been significantly disrupted by this pandemic. We were able to speak with leaders in our faith communities and the meat packing and livestock industries. It's important to hear directly from those folks who feed the country and world and keep our communities moving forward. I'm confident that we will pull through this trying time stronger than ever before," Grassley said.
Background:
Since the outbreak of COVID-19, Ernst has been fighting for Iowa's agriculture community and safely securing the food supply chain. Last week, Ernst joined other Iowa leaders in urging immediate assistance from the administration to support Iowa's pork industry, and welcomed the president's action to protect workers, support the supply chain, and help pork producers.
In addition, Ernst has written a letter to Vice President Mike Pence calling on the administration to ensure the U.S. maintains a strong, secure food supply chain. Ernst also joined a bipartisan, bicameral letter urging Secretary Perdue to take immediate action to assist pork producers and maintain the pork food supply chain.
In addition, Ernst successfully pushed the Small Business Administration (SBA) to ensure Iowa's farmers are able to access Economic Injury Disaster Loans (EIDL). In the bipartisan package there is also increased funding for the EIDL program – which will help businesses, and now farmers, across Iowa.
###