WASHINGTON, D.C. – Today the Senate Homeland Security & Governmental Affairs Committee passed the Combat Terrorist Use of Social Media Act of 2016 (S. 2517). U.S. Senator Joni Ernst (R-IA), an original co-sponsor along with Senator Cory Booker (D-NJ), highlighted the critical importance of the legislation introduced by Senator Ron Johnson (R-WI).
"I want to thank both Chairman Johnson and Senator Booker for working with me on this bill. This will require the Obama Administration to fulfill a promise that they made back in 2011 to develop a comprehensive strategy to counter and prevent violent extremism and online radicalization," Senator Ernst stated. "So while President Obama continues to lack a comprehensive overall strategy to defeat ISIS, this legislation will ensure he must at least present a strategy to address its use of social media to spread terror."
Click here or on the image below to watch Senator Ernst's remarks.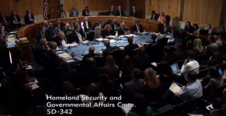 In December 2011, the Obama Administration released a "Strategic Implementation Plan for Empowering Local Partners to Prevent Violent Extremism in the United States" which made the following commitment: "[b]ecause of the importance of the digital environment, we will develop a separate, more comprehensive strategy for countering and preventing violent extremist online radicalization and leveraging technology to empower community resilience that considers: (1) the latest assessment of the role of the Internet; (2) the absence of clear national boundaries in online space and the relationship between international and domestic radicalization to violence; (3) relevant legal issues; and (4) the differing authorities and capabilities of departments and agencies."
The Combat Terrorist Use of Social Media Act requires the president to prepare:
A report on terrorists' and terrorist organizations' use of social media and an evaluation of current government efforts to combat such use.
A comprehensive strategy to counter terrorists' and terrorist organizations' use of social media.
The bipartisan legislation is the companion to H.R. 3654, introduced by Rep. Ted Poe (R-TX) along with House Foreign Affairs Committee Chairman Ed Royce (R-CA) and Ranking Member Eliot Engel (D-NY), and passed by the House in December 2015.
###