WASHINGTON – As the fentanyl epidemic rages across the country, U.S. Senator Joni Ernst (R-Iowa) led a bicameral Congressional delegation – which included Representatives Randy Feenstra (R-Iowa) and Mariannette Miller-Meeks (R-Iowa) – to the San Diego sector of the U.S.-Mexico border and Mexico City, Mexico this weekend.
The bicameral delegation toured the San Diego Customs and Border Protection (CBP) field operations, met with the National Border Patrol Council (NBPC), and participated in briefings by local and federal law enforcement about fentanyl trafficking. The delegation also traveled to Mexico City to meet with Mexican officials and participate in briefings from members of both the U.S. and Mexican military and law enforcement. The delegation's visit focused on the flow of fentanyl from Mexico into the United States, as the Port of San Diego is described as the epicenter of fentanyl trafficking.
Click HERE to listen to Ernst, Feenstra, and Miller-Meeks discuss their visit.
Click HERE for videos and photos from their trip.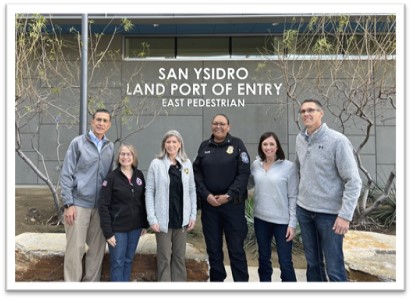 Left to right: Rep. Darrell Issa (R-California), Rep. Mariannette Miller-Meeks, Sen. Joni Ernst, San Ysidro Port Director Mariza Marin, Sen. Katie Britt (R-Alabama), and Rep. Randy Feenstra.
"The San Diego port of entry is the world's busiest land border crossing and is described as the epicenter of fentanyl trafficking. The lethal drugs that come through this sector of the border feed right into the Midwest," said Ernst, a member of the Senate Armed Services Committee. "It is our joint responsibility with Mexico to bring an end to the fentanyl crisis and the resulting cartel violence. President Biden must present a clear plan that meets the challenges at the U.S.-Mexico border. It's a complicated problem, but complicated can't mean complacency."
"Meeting with our brave Border Patrol agents and officials from the Mexican government was both informative and eye-opening,"said Feenstra. "Our Border Patrol agents are demoralized because President Biden refuses to take the border crisis seriously. It is my hope that Democrats will work with Republicans to secure the border, stop the deadly flow of fentanyl into our communities, and protect the sovereignty of our nation."
"The Biden administration's lack of response to the crisis at our southern border is not only alarming and irresponsible, but dangerous to our nation," said Miller-Meeks. "This trip allowed us to see firsthand the amount of drugs coming into our country and the challenges our Border Patrol agents are facing each day. We cannot afford to let the president continue to ignore this crisis—it's past time to enact policies that have been proven to work."
###