WASHINGTON—Today, as the crisis at the U.S.-Mexico border continues to get worse, U.S. Senator Joni Ernst (R-Iowa) attempted to pass her commonsense bill,
Sarah's Law
,
to require federal law enforcement to detain illegal immigrants criminally charged with killing or seriously injuring another person.
Click here or on the image above to watch Senator Ernst's remarks.
Democrats blocked the effort and once again sided with violent illegal criminals.
"I don't understand why it is so hard to get this law passed. Many of us that have lost loved ones at the hands of someone in our country illegally, never receive justice for our loved ones. This common sense law would help insure that the person responsible for our loved ones death or serious bodily injury is held accountable. My daughter's killer came across the border as an unaccompanied minor at age 16 only to kill my daughter three years later. Sarah's tragic story, unfortunately, isn't the only tragic story out there. There are tens of thousands more. While this law may not save lives it will insure they are held accountable and our loved ones deserve justice," said Michelle Root, Sarah Root's mother.
Since 2016, Ernst has been
working
to pass the bill named in honor of Sarah Root—a twenty-one year-old Iowan from Council Bluffs, who was struck and killed in Omaha, Neb., by Edwin Mejia, who entered the country illegally and was driving drunk three times over the legal limit. Despite repeated requests by local law enforcement, U.S. Immigration and Customs Enforcement (ICE) failed to detain Mejia because of a nonsensical policy that allows ICE to use discretion when determining whether to detain a criminal illegal immigrant charged with a violent offense. He posted bond, was released, and disappeared. While Ernst was successful in getting the last administration to include parts of her legislation via executive action, President Biden
reversed
these enforcement policies during the first few days on the job.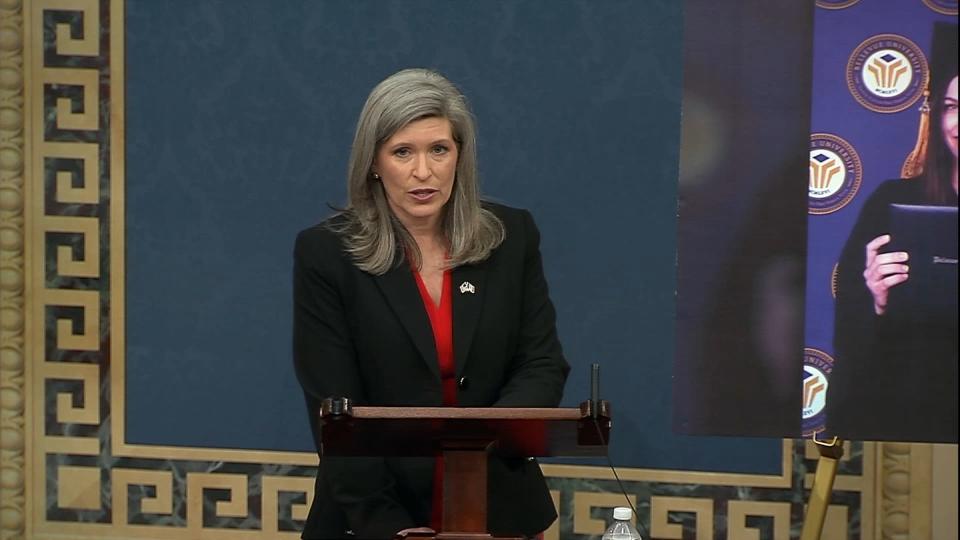 Click here or on the image above to watch Senator Ernst's response to Democrats blocking her bill.
Senator Ernst's remarks on the bill are below:
"It's become all too easy for pundits and politicians to reduce the security of our borders to a bumper sticker or billboard slogan.
"As someone who appreciates the value of human life…as a survivor of sexual assault…and someone who cares deeply about the safety and security of women and children across the globe, I am horrified that we continue to put border security at the bottom of our policy to-do list.
"On January 31st, 2016 – the same day as her college graduation – Iowan Sarah Root was killed by an illegal immigrant named Edwin Mejia. He was drag racing with a blood alcohol level more than three times the legal limit.
"Despite repeated requests by local law enforcement, Immigration and Customs Enforcement, failed to detain Mejia, because of a catch and release policy that ultimately allowed him to escape the country. Unfortunately, this is the same policy that President Biden supported during the Obama Administration. 
"Still, more than four years later, Mejia remains a fugitive – denying Sarah's loved ones any sense of justice and closure. After today, I will have now live UC'd this bill twice, and I expect the same thing to happen today as it did the last time…that it will be objected to by my Democratic colleagues. 
"As a mother, I cannot fathom the grief that Sarah's family – her mother and father Michelle and Scott – her brother, and her friends continue to feel after such a devastating loss.
"Sarah had her whole future in front of her, but her opportunity to make her mark on the world was tragically cut short.
"At the same time, while Sarah Root's mother and father grieve…a child, without a parent, continues to make the perilous journey at the hands of a smuggler. Many arrive here dehydrated and malnourished and subject to unspeakable atrocities from rape to assaults.
"Since Inauguration Day, we have seen record numbers of children at the border – a heartbreaking humanitarian crisis.
"Before then, the Migrant Protection Protocols, or the Remain in Mexico Policy, was in place and helped keep migrants safely in Mexico until the United States had a chance to process them. 
"This policy single-handedly reduced the need for bed space in the U.S., protected migrants from a treacherous journey through Mexico, and kept our facilities from being dangerously overcrowded.
"Border Patrol Agents were able to return to their originally assigned duties of patrolling for drugs and human traffickers.
"But, as we've heard time and again – and something that's very true – elections have consequences. 
"President Biden, before he even had the chance to unpack, made serious changes to immigration policies…changes that have resulted in the national emergency at the U.S.-Mexico border.
"First, he rolled back the Remain in Mexico policy, and that's a big reason why we have a crisis at the border today.
"Instead of keeping migrants in Mexico and deterring those from making the dangerous journey north, the vacancy sign is on…but the reality is, we are out of space. 
"It feels as if the Biden Administration is starting to see the reality of the disaster they created at our southern border.
"They're now walking this reversal back and asking the Mexican government to reinstate the previous administration's policy.
"On his first day in office, President Biden signed an executive order suspending all domestic deportation proceedings. 
"If Sarah Root's story played out today, Immigration and Customs Enforcement would not pick up her killer and the same tragedy could happen again and again.
"Although nothing can bring beautiful Sarah back to her family, we can ensure that the federal government never makes this same mistake again.
"Today, I rise to call upon my Senate colleagues to help make that happen…to stop another tragedy like Sarah's from happening with a simple and clean fix.
"I am asking the Senate to join myself and 22 of our colleagues and pass my bill Sarah's Law.
"Sarah's Law is simple: it requires that ICE take custody of a person who is in the country illegally if they are charged with a crime that seriously injures another person. It also mandates a better victim notification system that lets victims and their families – like the Root Family – know what happened to their loved ones.
"Sarah's Law is about as commonsense an effort as there is. It recognizes the simple fact that all criminals should be held accountable for their actions, and not simply allowed to slip back into the shadows.
"If Sarah's Law is passed…people who are in this country illegally and murder another person would be prioritized for deportation if released…who could be opposed to this?
"In fact, a previous vote on this bill in the form of an Amendment was supported by the majority of the Senate and was bipartisan. 
"No family should ever have to endure such a tragedy, especially one that could have been prevented."
###