Moving Federal Agencies Out of the 'Swamp' and Closer to the People
Senator Ernst is leading the charge to move federal agency headquarters outside of "swampy" Washington, D.C. and closer to the people most impacted by the agencies' decisions. This comes as the Trump Administration is making strides toward moving departments within the U.S. Department of Agriculture (USDA) and U.S. Department of Interior (DOI) outside the Beltway and closer to the communities and stakeholders they serve. 
This week, Senator Ernst reintroduced her Strategic Withdrawal of Agencies for Meaningful Placement (SWAMP) Act which aims to distribute agency headquarters over geographically diverse areas of the nation to help ensure agencies focus on the stakeholders most impacted by their decisions.
Calling on Congress to Fix Our Broken Immigration System
Last Sunday, Senator Ernst visited the Texas-Mexico border, including a number of Department of Homeland Security (DHS) and Health and Human Services (HHS) facilities. During her visit, Senator Ernst received briefings from DHS and U.S. Customs and Border Protection (CBP) officials at the McAllen, Texas Border Patrol Station, including details of the drug trafficking that goes on along the border, and the schemes of the Mexican drug cartels. Senator Ernst was able to dialogue with CBP officials about the overall ways to address this crisis, including the need for additional asylum officers and judges.
Senator Ernst receiving a briefing from CPB officials.
Following her visit to the border, Senator Ernst reiterated her call for Congress, including  her Democratic colleagues, to step up and work across the aisle to find solutions to the humanitarian crisis at the border, like securing our border and closing the asylum loopholes in our existing immigration laws.
Click here or the image above to watch Senator Ernst discuss the need for immigration reform.
After seeing first-hand the dedication and compassion of the hard-working men and women of CBP over the weekend, Senator Ernst joined her Republican colleagues on the Senate Judiciary Committee in introducing  a resolution to commend the CBP officials and agents for their honorable service.
Senators Ernst, Bill Cassidy (R-LA), and James Lankford (R-OK) with CBP agents at the southern border.
Confirming Permanent Leaders at the Pentagon
Senator Ernst, chairman of the Senate Armed Services Subcommittee on Emerging Threats and Capabilities, applauded the overwhelmingly bipartisan confirmations of Mark Esper, our new Secretary of Defense, as well as General Mark Milley, our new chairman of the Joint Chiefs of Staff. Ernst, a combat veteran herself, understands the critical importance of having Senate-confirmed leadership at the Pentagon.
Click here or the image above to watch Senator Ernst's remarks about Secretary Esper's confirmation.
Communicating Priorities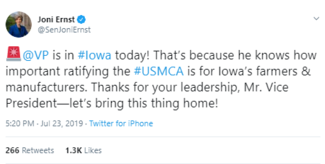 ###