Let's Work Together to Secure Our Border 
Following President Trump's address to the nation on Tuesday night, Senator Ernst issued a strong statement: "The President has been abundantly clear that the Democrats need to start working with Republicans – not against them – to reach an agreement on securing our southern border and putting the wellbeing of American citizens first…I agree, Mr. President. Let's work together to secure our border."
In a call with Iowa reporters later in the week, Senator Ernst reiterated the need for a comprehensive plan on border security. KMA Land was on the call and reported on Ernst's comments. 
National Security and Middle East Allies 
The Strengthening America's Security in the Middle East Act, which was considered by the Senate this week, is a vital national security bill that will help reinforce our alliances in the Middle East and keep pressure on the Assad regime in Syria. Unfortunately, Democrats in the Senate decided to block this important bill, placing partisan politics ahead of our country's defense.
On Wednesday, Senator Ernst took to the Senate floor calling for the U.S. to continue strengthening our armed forces in line with the national defense strategy, and to recognize the return of great power competition. Watch the full speech here.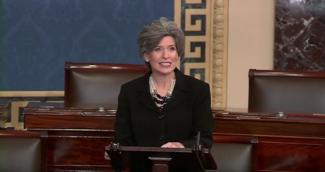 Senator Ernst speaking on the floor of the U.S. Senate
Judiciary Committee Responsibilities 
Senator Ernst met with the nominee for U.S. Attorney General, William Barr, on Thursday.  Next week, Senator Ernst will take part in Senate Judiciary Committee hearings on Mr. Barr's nomination where she will have the chance to fully vet his nomination. 
William Barr, nominee for U.S. Attorney General, and Senator Ernst
On Thursday night, Ernst spoke with Fox News' Martha MacCallum about the importance of being one of the first Republican women senators to sit on the Judiciary Committee.  Watch the full interview by clicking here or on the image below.
Senator Ernst also sat down with USA Today to discuss her role on the Judiciary Committee and the significance of having Republican women not only on the committee, but in Congress. On recruitment of Republican women, Ernst stated, "We do that by demonstrating we have room for you and we have room for your ideas on our committees. We have good assignments waiting for you." 
Legislative Victories
This week, Senator Ernst, and a number of her colleagues, reintroduced legislation to rein in unelected bureaucrats by giving Congress the authority to review sweeping rules and regulations that impact Iowans and all Americans. Read more about the REINS Act here.
In addition, Senator Ernst cosponsored the Constitutional Concealed Carry Reciprocity Act, which will allow law-abiding citizens with concealed carry privileges in their home state to safely conceal carry in other states that also allow it. The bill would not preempt any state law or establish a national standard for concealed carry. Read her statement here.
Fourteen Senators, including Senator Ernst, wrote a letter to Health and Human Services Secretary Alex Azar urging him to move forward with a final rule that would ensure pro-life consumers enrolled in Affordable Care Act health plans aren't subsidizing abortion services. KIOW in Forest City, Iowa covered the news. To read the full letter to Secretary Azar, click here. 
Law Enforcement Appreciation
Every single day, brave police officers put their lives on the line to protect our communities. Senator Ernst extended her gratitude to these men and women who make tremendous sacrifices to look after our friends, neighbors and loved ones on National Law Enforcement Appreciation Day.
Senator Ernst stands alongside officers of the Indianola Police Department
Communicating Priorities
###