Press Releases
Held 35 town halls; secured E15 year-round; fought to provide flood relief for Iowa families and communities; provided mental health resources for farmers; had her veterans bill signed into law; pushed to lower the costs of prescription drugs; worked to finalize trade deals
Dec

16

2019
WASHINGTON – From securing E15 year-round, to breaking ground on the Cedar Rapids flood mitigation project, and from seeing her FARMERS FIRST Act in action providing mental health resources for farmers, to having her veterans bill—the HAVEN Act—signed into law, U.S. Senator Joni Ernst (R-IA) continued to fight relentlessly to deliver real results for Iowans this year.
"2019 was a great year, and I'm proud of the work we've done to help Iowa's farmers and producers, to support our families and communities impacted by the terrible spring floods, to lower the costs of health care and prescription drugs, and to get trade deals finalized," said Senator Joni Ernst. "Another year also means another 99 counties in the books! For the fifth time, I've completed my 99 County Tour, holding 35 town halls and hearing directly from thousands of Iowans in every corner of our state. There's plenty to build on in the year ahead, and I look forward to continuing to fight relentlessly for my fellow Iowans."
As 2019 comes to a close, Senator Ernst is reflecting on the last year and highlighting the work she's done to deliver real results for her home state of Iowa.
VIDEO: Click HERE or on the image below for a video recap of Senator Ernst's 2019.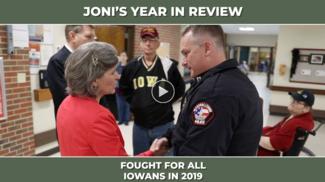 AUDIO: Click HERE for an audio file download of Senator Ernst describing some highlights from 2019.
Some highlights from 2019:
Click HERE for a detailed summary of Senator Ernst's work from 2019.
###