Press Releases
Senator Joni Ernst had yet another busy work period back home in Iowa. She continued crisscrossing the state—holding her 33rd town hall this year, visiting small businesses, and making other stops on her 99 County Tour. She also celebrated two major wins for Iowans. After consistently pressing the EPA to uphold the Renewable Fuel Standard (RFS), President Trump acted to deliver a win for Iowa's farmers and producers. Senator Ernst also attended the groundbreaking of the Cedar Rapids flood project, something she has fought for since first entering the Senate.
Upholding the RFS
Senator Joni Ernst, chairman of the Agriculture Subcommittee on Rural Development and Energy and a member of the Environment and Public Works Committee, applauded the Trump Administration's announcement on the RFS.
The RFS is essential to the livelihoods of folks across Iowa, which is why Senator Ernst has been fighting tirelessly on behalf of Iowa's farmers and producers every step of the way and making Iowans' voices heard throughout this process.
Click here or the image above to listen to Senator Ernst discuss the deal.
Ernst Holds 33rd Town Hall This Year
Senator Ernst continues to hold town halls across the state—from Iowa's most populated counties to its more rural areas. This past week, Senator Ernst held her 33rd town hall of the year in Templeton, to visit with folks in and around Carroll County.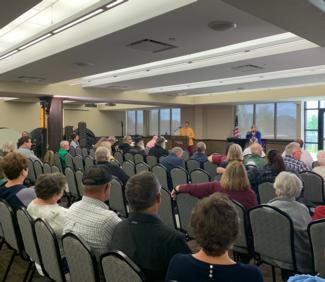 Senator Ernst answers a question at her Carroll County town hall.
Out and About on her 99 County Tour
In Monona County, Senator Ernst met with AgriVision franchise owners and members of the Iowa-Nebraska Equipment Dealers Association (INEDA).
Senator Ernst spoke to women in Cerro Gordo County as part of the Mason City Chamber of Commerce's "Breaking Glass" speaker series on women in leadership.
Senator Ernst visited Hoover's Hatchery in Rudd, a staple of Floyd County for over 75 years.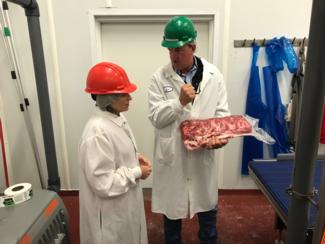 In Howard County, Senator Ernst toured Upper Iowa Beef to learn more about their expanding business.
Senator Ernst checked out one of the largest wineries in Northeast Iowa, Empty Nest Winery in Allamakee County.
In Grundy County, Senator Ernst visited Grundy Center's Main Street, stopping at a number of small businesses to hear about the challenges they face.
Following Relentless Effort to Secure Funding, Ernst Joins Groundbreaking for Cedar Rapids Flood Project
Following years of relentless efforts to secure $117 million in federal resources, Senator Ernst joined city officials and others for the groundbreaking of the Cedar Rapids flood mitigation project, an initiative that has been a top priority for the Senator since her first day in office. As a former member of the Iowa National Guard, Senator Ernst was on the ground to respond to the disaster in 2008 and saw firsthand the devastation it caused for the Cedar Rapids community.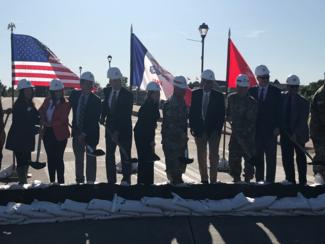 Senator Ernst attends the Cedar Rapids floodgate groundbreaking
Welcoming the Vice President to Iowa, Calling for the Passage of USMCA
Senator Ernst continues to push for the passage of the United States-Mexico-Canada trade agreement (USMCA), welcoming Vice President Mike Pence to Iowa to discuss the issue. Senator Ernst joined Vice President Pence, Senator Grassley, and Governor Reynolds at Manning Farms in Waukee.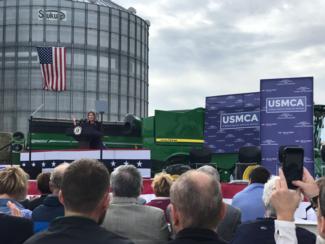 Senator Ernst calls on Congress to pass USMCA.
Urging VA to Take Action to Address Hiring Issues
Senator Ernst, a combat veteran, joined a bipartisan group of senators in calling on the Department of Veterans Affairs (VA) to take action following a troubling report from the Government Accountability Office that found Veterans Health Administration facilities are hiring providers with a history of misconduct. Ernst and her colleagues are requesting detailed information from the VA about the steps it will take to address the problem.
The Senators point to a disturbing and inconsistent adherence to policies related to verifying a potential provider's credentials. This is due in part to a lack of uniform and mandatory credential training across facilities.
Social Media Highlights
###