Press Releases
Protecting and Celebrating Life
Yesterday, Americans from every state gathered in our nation's capital to participate in the 46th Annual March for Life. With that in mind, Senator Ernst took to the Senate floor and urged action on pro-life legislation, including her Protect Funding for Women's Health Care Act, which she introduced this week. This legislation would strip funding from Planned Parenthood and redirect those funds to eligible women's health care providers. Life News wrote a piece on Ernst's legislation.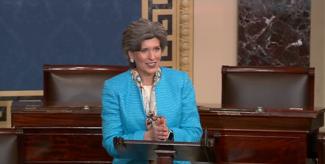 Click here or on the image above to watch Senator Ernst's floor speech on protecting life.
Senator Ernst also helped reintroduce legislation this week that would establish permanent, government-wide prohibition on taxpayer funding for abortion. She stated, "Like millions of Americans, I do not believe our hard-earned tax dollars should ever be used to cover the costs of abortion procedures." Read more here.
No Budget, No Recess
Following years of repeated ineffectiveness to responsibly fund the federal government, Senator Joni Ernst introduced legislation that would prohibit members of Congress from leaving Washington if they failed to pass a budget on time.
The No Budget, No Recess Act would prohibit Congress from leaving Washington if they fail to pass a budget by April 15 or approve regular spending bills by August 1. This means that Congress would be unable to adjourn for the August state work period – commonly referred to as "recess" – until they complete their work.
Judiciary Committee Responsibilities
In her first Senate Committee on the Judiciary hearing, Senator Ernst questioned President Trump's nominee for U.S. Attorney General, William Barr. She pressed Mr. Barr on a number of topics important to Iowa, including immigration policies and human and drug trafficking. During the hearing, Ernst announced that she would be reintroducing her bill, Sarah's Law, before the end of the month. KIOW covered Ernst's questioning.
Click here or on the image to watch Senator Ernst's line of questioning.
Twice during the hearing, Senator Ernst made history: being the first Republican woman to question a witness during a Judiciary hearing; and, Ernst became the first Republican woman to chair a Senate Judiciary Committee hearing, filling in for Senator Lindsey Graham (R-SC) during a vote series. The Hill covered the "firsts" for Republican women on the Judiciary Committee.
E15 Year-Round Update
According to U.S. Environmental Protection Agency (EPA) Acting Administrator Andrew Wheeler, the Agency is on track to have the E15 year-round rule in place by the summer driving season. This is great news for Iowa farmers and would fulfill President Trump's promise.
In a Senate Environment and Public Works hearing on the nomination of Andrew Wheeler to be EPA Administrator, Senator Joni Ernst pressed Mr. Wheeler on both the E15 rule and the Agency's practice of evaluating and determining hardship for small refinery exemptions. The American Coalition of Ethanol praised Ernst for "confronting" Mr. Wheeler "about the ethanol demand destruction created by an unprecedented number of RFS small refinery exemptions."
Click here or on the image above to watch Senator Ernst's line of questioning.
For her tireless efforts and consistent leadership on pushing the administration to fulfill President Trump's promise of E15 year-round, Senator Ernst received the E15 award from the Iowa Corn Growers Association.
Communicating Priorities
###