Press Releases
Continuing Push to Lower Health Care Costs, Prescription Drug Prices
Senator Ernst is continuing her efforts to lower the costs of health care and prescription drugs for Iowans by helping advance multiple bills, including three pieces of legislation that were approved by committees in the Senate in just the last few weeks.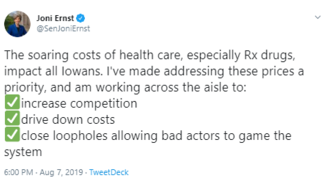 The soaring costs of health care, specifically prescription drugs, impact all Iowans, but most of all the elderly and those living on a fixed income. Addressing these rising prices is one of Senator Ernst's top priorities, and she continues to work across the aisle to increase competition, drive down costs, and close loopholes that allow bad actors to take advantage of the system.
Ensuring Iowa Taxpayers Know How Their Money is Being Spent
Iowans deserve to know how their hard-earned money is being spent; Senator Ernst believes that's just commonsense. As part of her efforts to bring transparency and accountability to the way Washington does business, Senator Ernst is cosponsoring a bipartisan measure, the Taxpayers Right to Know Act, to require the federal government to make public the details, costs, and assessments related to every federal program.
This bipartisan legislation will bring overdue transparency for Iowa taxpayers and will help identify ways to make our government more efficient. The bill unanimously passed the Senate Homeland Security and Government Affairs Committee just recently.
Supporting Iowa's Farmers
Senator Ernst, who grew up on her family farm, understands the importance of supporting Iowa's agricultural community and continues to support the state's farmers, especially in light of this year's devastating floods and low commodity prices. That's why the Senator is a cosponsor of the Family Farmer Relief Act, along with Senator Chuck Grassley, which will help family farms reorganize after falling on hard times. While bankruptcy is a last resort, this bipartisan bill will provide Iowa farmers the opportunity to keep the operations going. Just recently, it passed the Senate, and is now headed to the president's desk to be signed into law.
In addition to the Family Farmer Relief Act, Senator Ernst is also working to roll back the Obama-era Waters of the United States (WOTUS) rule that threatened Iowa's farmed by giving the federal government the authority to regulate water on 97 percent of land in our state.
Senator Ernst, along with Senator Mike Braun (R-IN), introduced the Define WOTUS Act to make a new, reasonable definition permanent—to ensure predictability and workability for Iowans for years to come. The Iowa Farm Bureau has endorsed this proposal.
Communicating Priorities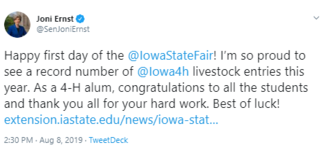 ###